Rent a charter bus with driver in Eisenstadt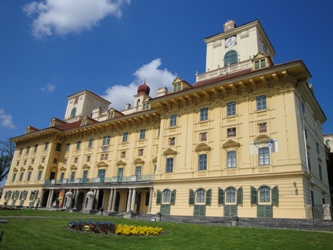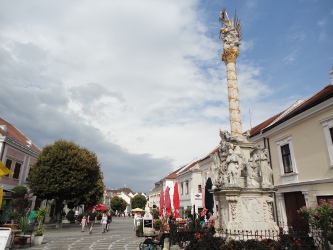 Do you wish to rent a bus in Eisenstadt? Well, buswithdriver.at is the right place to be! We make provision of minibuses and buses with driver for all sorts of transfers and sightseeing tours in Eisenstadt and excursions by bus to Burgenland, Lower Austria, Vienna, Slovakia, Hungary, Styria, Slovenia, and also for travels by bus to Europe.
Through www.buswithdriver.at you can rent vehicles for ground transportations by minibus or bus for the following kinds of trips:
Bus transfers to Eisenstadt: hire a bus driver in order to make a transfer to Eisenstadt; leave from your hotel in center Eisenstadt or from an event location, from a restaurant or from your office to a conference in Eisenstadt.
Guided visits by bus in Eisenstadt: rent a coach with driver for a guided visit in and around Eisenstadt. You could go through the old town in Eisenstadt to a visit of the Esterhazy castle, Rust - known as the city of storks -, a walk through the park at the Neusiedl Lake, a visit of the Roman quarry at Sankt Margareten, a wine tasting in Eisenstadt, a stroll through the Leitha mountains or a boat trip on the Neusiedl Lake.
Excursions by bus departing from Eisenstadt: rent a bus for an excursion to the Burgenland, a guided visit of the Vienna Woods, of Baden, a visit of the Forchtenstein castle, of the natural park Geschriebenstein, of the Guessing castle, of the Lockenhaus castle, for a full day excrusion to Vienna, Bratislava, Budapest or Graz and for a quick trip to Hungary as for example to Sopron and the Balaton Lake.
Travels by bus to Eisenstadt: rent a coach with driver for a bus journey to Austria - or even for a trip to Germany, Hungary, Slovakia, Ukraine or any other country in Europe.
Airport bus transfer: rent a charter bus with driver for a transfer to the Vienna-Schwechat airport or for a transfer by minibus or bus to the Budapest, Bratislava or Balaton airports.
---
If you wish to rent a bus with driver in Eisenstadt, you can reach our team by calling +43 1 966 02 61 or via email at at any time.
---
Recommended links related to the renting of buses in Eisenstadt
The bus rental platform Eisenstadt Bus provides buses with driver for sightseeing tours and transfers in Burgenland, Hungary, Slovakia, Lower Austria and Vienna. You will find information on the Burgenland contacting the service Burgenland Bus. You can hire a competent local guide through http://www.guidedtours.at/.